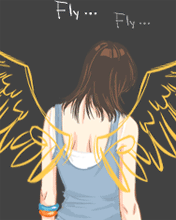 glitter-graphics.com
People say that the best version of me is when I am with you. And somehow, it makes sense, considering who we are and what we mean to each other.
But I have my way, my need to complicate things. And you, you have your way of hating me for it. You tell me that I am incapable of happiness . . . that wallowing in self-pity helps me validate my existence. You see this as unnecessary. I see it as self-preservation.
It turns out that I am not satisfied with the best version of myself, after all. Because maybe, just maybe, being me and being with you, is not what I am living my life for.